Editor Profiles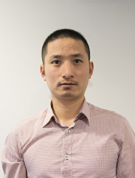 Guangde has been the Editor of BMC Hematology since 2018 and is based in the Shanghai office. Before joining BMC, Guangde received his BSc in theoretical physics from Nanjing University, China and his PhD in quantum chemistry from the Royal Institute of Technology, Sweden. After graduation, he returned to China as an assistant researcher investigating the growth of composite membranes for water processing, before moving on to study the growth of solid tumors using computer simulation. His interest then turned to medical science and he worked as medical editor for a number of years before joining BMC as an editor of the BMC series.
Hemostasis, thrombosis and vascular biology
Dr. Alejandro Lazo-Langner is an Associate Professor of Medicine, Oncology and Epidemiology and Biostatistics at Western University in Canada, where he is a hematologist specializing in thromboembolic diseases. He holds an MD from La Salle University School of Medicine in Mexico City and an MSc in Clinical Epidemiology from the University of Ottawa. He completed a 4-years Residency program in Internal Medicine and a Fellowship in Hematology at the Universidad Nacional Autónoma de México in Mexico City and a Clinical and Research Fellowship in Thrombosis at the University of Ottawa. His research interests are focused on determinants of thromboembolic diseases, observational studies and clinical trials in thromboembolic disease, risk-benefit analysis and decision making. His secondary research interests include clinical and observational studies involving hematological malignancies. He joined the Editorial Board of BMC Hematology in 2014.
Follow